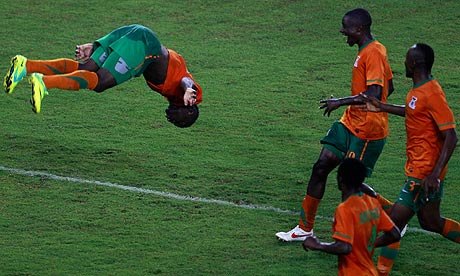 Above, you see Zambia's Emmanuel Mayuka celebrating after scoring the game's only goal against Ghana in the African Nations Cup semi-final yesterday. Asamoah Gyan had missed an 8th minute penalty kick for Ghana and was removed for a substitute late in the game.
Asamoah Gyan was fouled in the box and took the penalty himself, but Zambia goalkeeper Kennedy Mweene made the save to keep the game scoreless. Don't think it was just luck; Kennedy Mweene was named the South Africa Premier League goalkeeper of the year in 2010 with Free State Stars, and is considered to be the best goalie in that league. At halftime, Zambia replaced starting forward James Chamanga with Emmanuel Mayuka, the only Zambia player who plays for a first division European team (Bern SC Young Boys, Switzerland). Mayuka was creating chances for Zambia, but Ghana had far more opportunities and Mweene made several saves, until the 77th minute when Mayuka put a dribble move around Rennes defender John Boye and found himself open enough to shoot the ball into the net. Zambia appears in the African Nations Cup final for the first time since 1994.
Their opponent will be Ivory Coast, who defeated Mali 1-0 yesterday in the other semifinal. The match was one-sided as Didier Drogba struck the post with a header in the 6th minute, and then Yaya Toure struck the other post less than five minutes later with an even stronger header. Arsenal's Gervinho was the man to finally score for the Elephants, in the 44th minute, on a solo run down the left side that beat the Mali defense. Ivory Coast goalkeeper Boubacar Barry needed no saves as Ivory Coast still has not allowed a goal in the entire tournament.
The final between Zambia and Ivory Coast is Sunday, from Libreville, Gabon
Photo:
Amr Abdallah Dalsh/Reuters