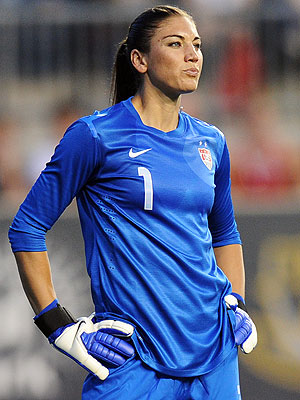 I just watched the US Women's Olympic team defeat North Korea 1-0 at Old Trafford. The TV commentators mentioned that Hope Solo (pictured) and the US Women have not allowed a goal in 256 minutes, since the 14th minute of the opener against France when France seized an unlikely 2-0 lead en route to a 4-2 US victory.
Today, in the 25th minute, Alex Morgan broke away into the North Korea penalty area to beat everyone else to a long ball, drew the defense, and then found a wide open Abby Wambach who easily netted the game's only goal.
Congratulations to the US Women for their best start in group play of any Olympic games, even though they have won three of the four Olympic Gold Medals awarded in Women's soccer, this is the first time they have finished group play with three wins.
Photo: Getty