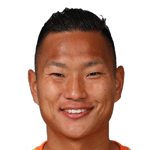 A few of you might remember WC 2010.
North Korea claimed that their star forward, Jong Tae-Se, was nicknamed North Korea's Rooney. Apparently, they thought that looking like Shrek and underperforming at random intervals was a good analogy.
Which brings us to North Korea declaring it's armistice with South Korea, null and void this month.
Previously, the two were still technically "at war" and just calling a cease fire until some later point. What makes the connection between Jong Tae-Se and war? Well, see, for the last two years, Jong Tae-Se has been plying his trade on the benches of VFl Bochum and more recently FC Koln. He barely played, so naturally, he needed to move somewhere.
In steps 4th place finisher of the K League (South Korea) for 2012, Suwon Samsung Bluewings. Signing Jong Tae-Se to a multi year contract this past January was the efforts to boost their shot at winning the title and hopefully improve on their semi final finish in the AFC CL from the previous season.
Now, here's the interesting part. Jong Tae-Se has played every match so far this season for Suwon. Granted, he's sitting out the next one on a thigh injury, but considering all men of his age are still supposed to be in the North Korean Army, how does one play for a team in a now "desputed" territory?
So far this season, Jong Tae-Se has yet to find the back of the net and last scored a league goal in 2011. The real Rooney has found the net 16 times in 30 odd appearances so far this season alone.
Considering Kim Jong Un shot 18 holes in ones in his first golf outing, writes songs and communicates telepathically to the women's NT coach, maybe this is just a ploy to put a spy in South Korea. It could also be an effort to make a North Korean player look better by playing lesser competition. Then again, maybe Jong Tae-Se just needs to borrow Kim Jong Un's marketing guy.
Photo:
Global Sports Media