2W-1D-2L
5 GF 5 GA
That's the head to head matchup stats for Portugal and USA heading into tonight's anticipated match.
But that isn't the deciding factor. C. Ronaldo has been practicing for only 15-30mins for the last few days with the team (don't let the icing fool you, as we should all be doing that after games). Pepe, the Brazilian born Portuguese player, is out with a red card he stupidly picked up against Germany for a taunting scrape of a headbutt. Defender Coentrao and GK Rui Patricio are both out with injuries. That's a heady bunch of good players that Portugal is going to sorely miss.
For the USMNT, Altidore is out. This is arguably, just a big a loss for us as for Portugal to be missing several players as while Altidore has had trouble scoring, with only 2 goals for club/country since December... December (let that sink in) and both of those, while good, were against Nigeria in a warmup friendly. Wondowlowski is probably the closest forward that we have in terms of Altidore's style, but he's not as fast (although I think he's a more opportunistic forward in the mold of Joe Max Moore style scoring) and Johannson, the US born but lived in Iceland player who has better passing and vision than Altidore, and a respectable scoring rate in the Dutch Eredivisie. The US isn't really set up for Johannson's style which may likely see us settle on putting Dempsey and his broken nose up top alone.
We haven't played Portugal in nearly 12 years, but we did win the last two, including a surprise 3-2 win in Korea during the 2002 World Cup. Unfortuately, records don't mean much, and are only predictors. The important thing here is both teams need the win to get through. Portugal needs to come out hard as they need to overcome a 4 goal deficit and need to make that up against the US and Ghana (who just took Germany 2-2 yesterday).
Expect a high tempo game, and hopefully, we score late as our cheap attempts at possession/bunker defense are our biggest liability as seen against Ghana. Also be ready for some flopping in the box or near as C. Ronaldo taking free kicks is a dangerous sight. The US also needs to be careful on the counter attack as Dempsey is lazy coming back when losing possession and will be a defensive liability anywhere but up top, especially with his broken nose excuse.
Our prediction, a 2-1 result for the US (with Bethany Dempsey standing in for Clint and Irina Shayk for her man C. Ronaldo), with the US then automatically qualifying for the 2nd round.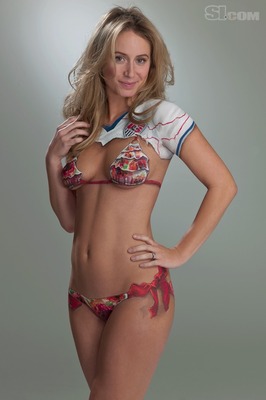 2
1
Photo: USSoccer, SportsIllustrated, Banzaj.pl